And Then There Were None! (always one of my favorite Agatha Christie books...) After going on a lime blitz, I nearly reached the end of my lime stockpile and successfully made Cilantro Lime Hummus, Coconut Cilantro Rice, and Fish Tacos.With some leftover tortillas from the fish tacos and just one lime left I decided to make one of my favorite Mexican dishes: Chicken Fajitas.

It's Monday, so I'm at a loss for words, but I can tell you these were so good. So yummy in fact that we ate so much we polished off all the tortillas so I can only show you the picture of the chicken/veggie combo. I'd imagine if you'd like to make this vegetarian, you could omit the meat. Similarly, shrimp or beef would work well.

Ok, off to go let my brain rest. Too much fun in one weekend. I promise I'll have more interesting anecdotes later in the week!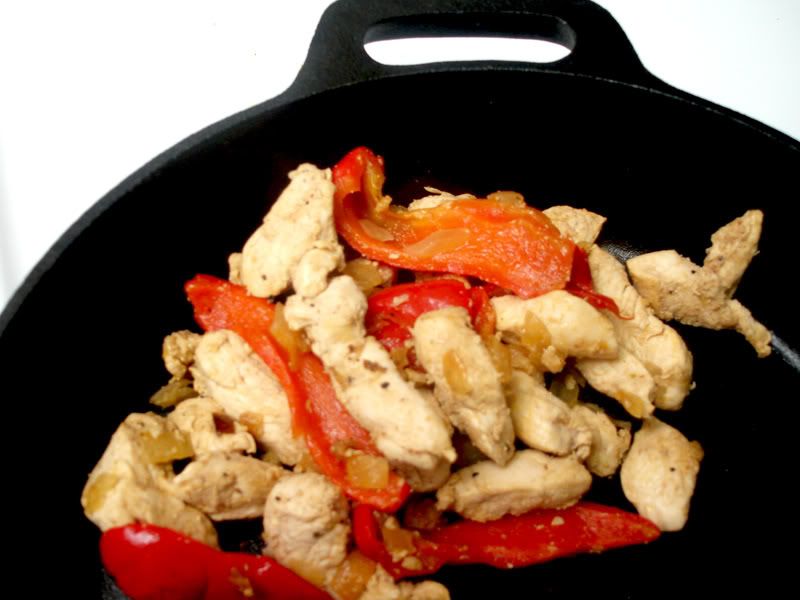 Chicken Fajita Marinade
2 tablespoons lime juice
2 tablespoons chicken broth
1 tablespoon olive oil
2 cloves garlic, crushed
1 teaspoon soy sauce
1/2 teaspoon salt
1/4 cup balsamic vinegar
1/8 teaspoon cayenne pepper (add more depending on heat level desired)
1/4 teaspoon ground black pepper
1 lb boneless, skinless chicken breasts, cut into strips
1/2 large red bell pepper, seeded and cut into long strips
1/2 onion, chopped

2 tsp olive oil for sauteing

1. In a large Ziploc bag, mix together all ingredients (from lime juice to chicken).
2. Place chicken in the marinade, and refrigerate at least 2 hours, or overnight.
3. Heat oil in a large nonstick skillet over high heat. Add red peppers and onions. Saute for approximately 3 minutes or until vegetables start to become tender (I cooked the onions for longer to create a caramelized effect). Add chicken strips and saute until browned, approximately 5 minutes.
4. Remove from heat and serve with desired accompaniments (i.e. cilantro, salsa, avocado, lettuce, sour cream, etc.)