The winner of the Wok Giveaway is lucky Linda from
Silly Little Mischief
! Congrats, and enjoy. Let us know what you make! Big thanks to everyone who entered.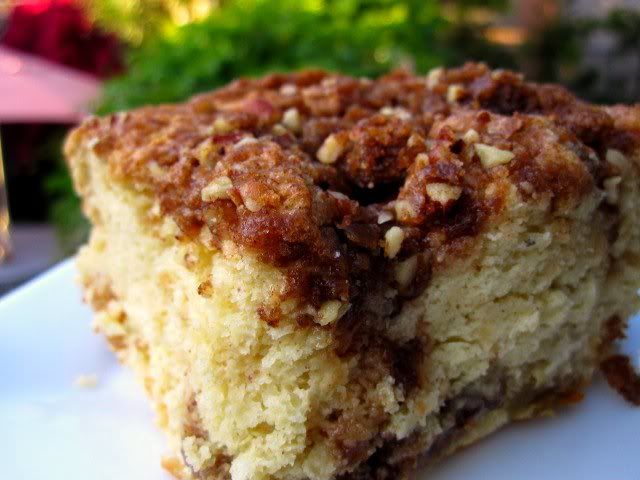 Yesterday my dear, amazing brother left a comment on the blog after he got to be a lucky first hand witness to what's called "kitchen drama" in our house. Though I absolutely love cooking, I tend to get well, let's just a say...a bit cranky when things don't go perfectly in the kitchen. Last weekend, I tried to make one (ok maybe, two!) too many things at once, with too little time and of course, there were ingredients forgotten, things spilled and a few swear words here and there and everywhere. Luckily, brother and hubby watched the Masters while things (including me) imploded in the kitchen. I suppose my kitchen inelegance may be reason #1 that I could never be on Top Chef or any other live cooking show for that matter!
Hubby is quite used to this kitchen drama and to his credit, he patiently puts up with my it like a saint and gets rewarded with his very own cake! This sour cream based coffee cake is a much more decadent version than the
healthy one
I baked not too long ago. Though I'd like to say both versions were equally delicious, c'mon that'd be a lie and I'm no liar! Since we're all being honest, who doesn't agree that baked goods hit a new level with some good old fashioned butter and eggs?
Oh well. I did use fat free sour cream which hopefully cuts down the fat content just a bit. And there's less than 2 cups sugar total so we have that going for us as well, right?! Regardless, this is one of my new favorite recipes and a great treat to bring to a party. Its quite pretty with a brown sugar pecan topping and stays unbelievably moist.
Brown Sugar Pecan Coffee Cake
topping:
3/4 cup light brown sugar, packed
1 tablespoon all-purpose flour
1 teaspoon cinnamon
2 tablespoons cold unsalted butter, cut into pieces
In a medium bowl, combine the brown sugar, flour, and cinnamon. Add the butter and, using your fingertips, pinch the ingredients together into a sandy, crumbly mixture.
cake:
8 tablespoons (1 stick) unsalted butter, softened at room temperature
1 cup granulated sugar
3 eggs
2 cups sifted all-purpose flour
1 teaspoon baking soda
1 teaspoon baking powder
1/2 teaspoon cinnamon
1/4 teaspoon salt
1 cup sour cream
1/2 cup golden raisins
topping, recipe above
1/4 cup chopped pecans, pulsed in the food processor (you can up this if you're more of a pecan fan)
1. Preheat the oven to 350 degrees. Butter a 8 by 8-inch cake pan, line with parchment paper and butter the paper. In a mixer fitted with a paddle attachment, cream the butter until smooth. Slowly add the sugar and mix. Add the eggs and mix until light and fluffy.
2. Sift the flour, baking soda, baking powder, cinnamon and salt together. Working in batches, add flour mix to the butter/sugar mixture, alternating with dollops of sour cream. Stir in the raisins.
3. Pour the batter into the prepared pan. Sprinkle the topping mixture over the cake. Sprinkle pecans on top. Bake until risen and browned, about 45-50 minutes depending on your oven. Let cool 10 minutes in the pan. Serve in squares.
Adapted from
Gale Gand