Have you ever heard of the Paleo diet? It's sort of a movement back to the diet of our ancestral caveman where you eat well, what a caveman would. Yep, what you're thinking is correct: no pop tarts, no froyo, not even cereal. Just plain ol' meat and veggies and some nuts for good measure. I suppose its kind of like a manly version of the South Beach diet.

{caption: this dish is not part of the Paleo diet}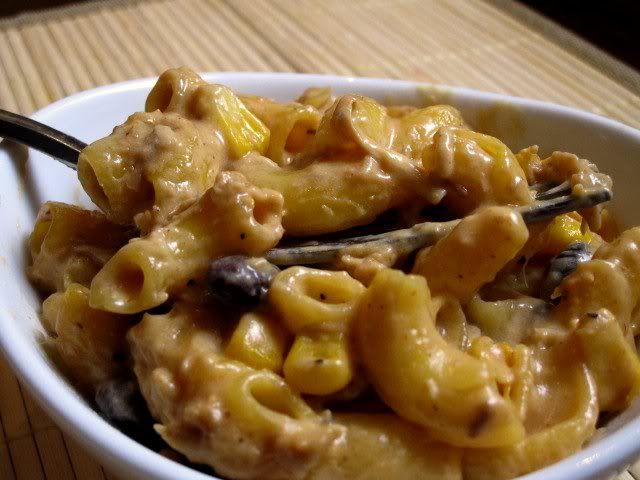 Well, as much as I agree with the reasoning behind this diet, I just love me some sugar and some carbs. Hubby mentioned experimenting with this movement, and I felt myself shudder with caffeine-withdrawal-like shakes. The only thing that could calm my nerves? BBQ Chicken Mac 'n Cheese. Of course, I made this for myself while he was away which actually left me wanting to adapt a caveman diet. Leaving me home alone with a vat of mac 'n cheese is never smart.

Don't fret. This dish isn't all bad for you. I try to use quinoa pasta
for almost all my pasta dishes now. It's super high in protein, gluten free and all around tasty nonetheless. Though this has to be one of my top 5 recipes, it ended up being a clear the pantry, spur of the moment meal I cobbled together with some leftovers (shredded bbq chicken, corn and beans). The corn and beans were an interesting addition, though the mac 'n cheese purist in me will probably leave them out next time.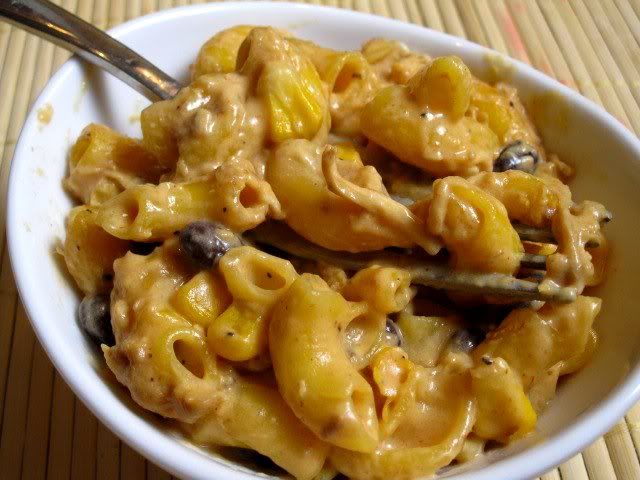 Now, on to the exciting stuff....a free Calphalon wok!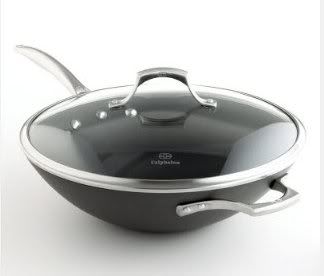 Thanks to the good folks at CSN Stores who have everything from Corner TV Stands to Le Creuset, to mattresses, I got to pick out a fun prize for my readers! Because I'm such a lover of Asian food, I chose this sweet Calphalon 13" Flat Bottom Wok. I actually selected this prize because I have this wok and love it.

Comments are now closed for this contest. Thanks to all who entered. I will be announcing the winner shortly!!


Open to U.S. residents only. If you don't have a blog, please leave your email address so I can contact you if you're the winner.

The winner will be chosen randomly by
Random.org
on Tuesday, April 13th - 9pm Pacific. Good luck!!
BBQ Chicken Mac 'n Cheese
Recipe by Sharon
I made this for myself so the measurements are kind of weird. For a bigger group, double the recipe.
1 8 oz. box quinoa pasta (available at health food stores like Henry's, Whole Foods), cooked according to package directions (plus a few minutes boiling time)
1 tbsp butter
1/6 cup flour
3/4 cup milk
1/8 cup chicken broth
1/2 cup low fat sour cream
2 tbsp ranch dressing
1/4 lb Velveeta, cut into cubes
1/4 tsp ground mustard
1/4 tsp ground black pepper
1/4 tsp coarse garlic salt
1 cups reduced fat shredded cheddar
1/4 cup black bean and corn (optional - I added this b/c I had some leftover, but not sure i would use again)
1/2 cup- 3/4 cup shredded bbq chicken (bought at TJ's)
Preheat oven to 350 degrees.
1. Melt butter over medium heat until almost bubbling. Add flour and stir until smooth. Gradually add milk and broth. Bring to a boil; cook and stir for about 2 minutes or until smooth & thickened. Reduce heat.
2. Add sour cream, ranch, Velveeta chunks, ground mustard, pepper & garlic salt. Continue stirring until smooth and cheese melts (this may take awhile). Once cheese is melted, add shredded cheddar and stir until melted.
Add drained pasta and chicken to pot and stir until combined with cheese sauce.
3. Spray a 9x9 glass baking dish with cooking spray. Transfer pasta to the dish and bake for 15 minutes or until heated through.